What's Breaking Bad you ask? Only the best show ever!
Breaking Bad, a currently still running television series starring
Bryan Cranston
. Most of you will know him from his more well known from Malcolm in The Middle, as Hal. Anyway right now I'm on the 9th episode, and man I love this show! Byran sure sets the mood in this epic of a TV show. Anyway other than Bryan s jaw-breaking performance the show still has a interesting storyline with lots of twists.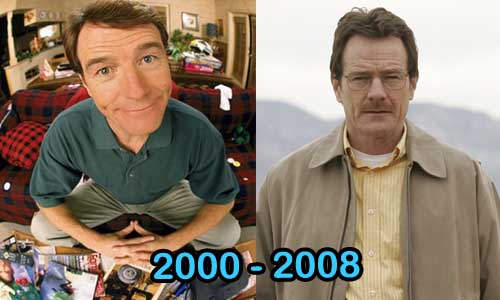 Bryan from 2000 to 2008. He's gotten a lot more serious...
Bryan's role in Breaking Bad is not a comedic one, if at all he's the most serious actor in the entire show. Faced with a ultimatum, Walter White (Bryan Cranston), chooses to produce Methamphetamine to pay for the expenses of his family after he catches inoperable lung cancer. Walter White himself, being a quiet successful and law-abiding man (Having received the Nobel prize) joins the dirtiest business in the world.
TLDR (Too Long Didn't Read / Summery)

Breaking Bad is an awesome show, if you enjoyed Bryan Cranston's performance in Malcolm in The Middle then you should totally check it out.
In other news, I had a pretty frantic weekend, as you noticed I forgot to post most of the weekend, expect for the lame post mentioning a Pub VS Pros in TF2. I kinda ripped it off the TF2 blog really, I mean the picture is actually ripped off the TF2 blog.
ANYWAY, back to the weekend, at first I had a friend over and we took turns playing SC: Conviction, it was kinda fun. Then the next day I went to the beach (Jericho) with some friends. After that I had a sleep-over with 3 friends. It was a blast, using my wireless router we played Starcraft, Age of Empires II, Soldat, Warcraft III, I mean it was a blast!
Other than that, nothing else much. I also read the book by Richard Matheson, I am Legend. Very nice, I had a good time reading that through. It was quite short although, after I am Legend was over I had almost half a book of short stories. I paid for I am Legend, not I am Legend & Short Stories.